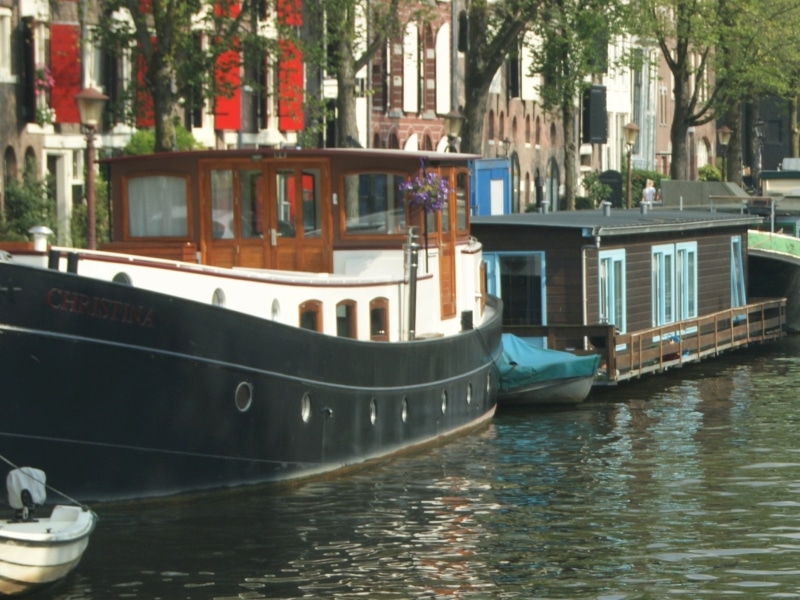 Een woonboot in Amsterdam huren
'Kan ik een woonboot huren bij jullie?' is een vraag die we regelmatig krijgen. Dat zouden we best willen: het verhuren van woonboten in Amsterdam doet niet veel onder voor het winnen van de loterij.
Bij ons kun je geen woonboten, maar wel een een klein bootje huren. Die zijn niet erg geschikt om op te wonen of in te slapen. Maar je kunt ze wel een stuk makkelijker zelf varen dan een woonboot ;-)
Ook al verhuren we zelf geen woonboten, we hebben er wél een mening over. En die delen we graag met jou in de vorm van een aantal tips. Doe er je voordeel mee!
1. Woonboot huren Amsterdam: het begint bij een goede locatie
De drie belangrijkste factoren voor vastgoed gelden ook voor woonboten: locatie, locatie, locatie. Oftewel: waar ligt de woonboot die je huurt? Check goed of dat overeen komt met jouw voorkeuren.
Woonboten in Amsterdam zijn letterlijk verspreid over de hele stad, van hartje centrum tot de meest afgelegen buitenwijken. Sommige woonboten liggen in drie rijen dik naast elkaar, terwijl andere in de wijde omtrek geen directe buren hebben.
De populairste locaties om een woonboot te huren zijn op de mooiste grachten – waaronder Brouwersgracht, Prinsengracht en Entrepotdok- en op de Amstel. Maar vergeet niet: sommige van die populairste grachten zijn ook de drukste. Op een gegeven moment kun je daar misschien geen rondvaartboot meer zien en geen uitleg door de gids meer horen. Of slaap je niet lekker door bootjes die tot 's avonds laat luid kletsend of met muziek aan langs je raam varen.
2. Huur je
 woonboot ruim van te voren en vermijd het hoogseizoen
Amsterdam is een ongekend populaire bestemming voor toeristen. Het aantal bezoekers blijft maar stijgen. De bezettingsgraden van allerlei soorten accomodaties is hoog en dat geldt helaas dus ook voor de kosten daarvan. Dat geldt zeker ook voor woonboten. Zeker bij buitenlandse bezoekers met een goed gevulde portemonnee is het het huren van een woonboot enorm populair. En hoewel de vraag maar blijft groeien, komen er geen woonboten bij. De gemeente staat simpelweg geen nieuwe woonboten toe.
Reken dus niet op mooie last minute aanbiedingen voor het huren van een woonboot, maar reserveer juist ruim van tevoren. En probeer, als het even kan, de piekmomenten te vermijden. Op doordeweekse dagen buiten de vakanties heb je meer keuze, betaal je minder en is het ook minder druk in de stad.
3.
Hoe is het uitzicht vanuit/vanaf je woonboot?
Veel advertenties voor het huren van een woonboot laten prachtige plaatjes van Amsterdam zien. Is dat dan ook het uitzicht vanaf of vanuit je woonboot? Lang niet altijd! Veel woonboten hebben een mooi vrij uitzicht op het water van een oude gracht of de brede Amstel. Maar er zijn ook woonboten die uitkijken op een industriegebied, de woonboot van de buurman die langszij ligt of zelfs een blinde muur.
De ramen van veel oude woonboten zijn beperkt tot kleine patrijspoorten. Dat komt mooi uit als je van authentiek houdt, of als je graag in je blootje rondloopt. Anders kun je misschien beter op zoek naar een recent gebouwde of gerenoveerde woonboot met grote panoramische ramen.
4.
Heeft je woonboot een terras?
Binnen chillen is goed, buiten chillen is beter. Om te genieten van je ontbijt of om te ontspannen na een lange dag in de stad, is er geen betere plek dan je eigen terras. Sommige woonboten hebben een terras op het dak, andere een drijvende constructie op het water. Informeer hier zeker naar als dit je aanspreekt.
5.
Huur je de hele woonboot of een deel ervan?
Woonboten zijn er in allerlei soorten en maten: van kleine 'hutten' met stapelbedden – voor het echte bootgevoel – tot hele grote boten met een oppervlakte van meer dan 200 vierkante meter inclusief alle privileges van de kapitein. Dat maakt nogal wat uit. Ook voor je privacy.
Zorg dat je zeker weet of de woonboot helemaal voor jou alleen is, of je deze deelt met andere toeristen, of dat je op een 'B&B&B' zit (een 'boot & bed & breakfast' bij de booteigenaars aan boord).
6. Stoot je kop niet en let op je rug (check
de hoogte van de woonboot)
Het huren van een woonboot kan een beetje een claustrofobische ervaring zijn. Maar dat hoort erbij. Je zit tenslotte in een verbouwd vrachtruim of in een stuurhut en niet in een hotelkamer. Zeker als je lang bent, kan het geen kwaad om even te checken wat de stahoogte is van de woonboot die je wilt huren. Anders kom je thuis met hoofd vol bulten en een hernia ;-) 
7. Huur een bootje om zelf de
 Amsterdamse grachten te verkennen
Het feit dat je op zoek bent naar een woonboot en niet naar een standaard hotelkamer, zegt iets over jou. Grote kans dat je houdt van authentieke, originele ervaringen en open staat voor wat avontuur, weg van de gebaande paden van het massatoerisme. Klopt dat? Dan vind je het zeker leuk om een bootje te huren en zélf varend de grachten te verkennen.
8.
Huur je woonboot bij een betrouwbare partij
Zoals eerder gezegd, verhuren wij helaas geen woonboten. Een betrouwbare partij voor het huren van een woonboot is Book a Houseboat. Uiteraard rekenen ze daar een commissie voor, maar die is voor rekening van de eigenaar van de woonboot.
Het huren van een woonboot via een professionele partij heeft veel voordelen voor jou als gast: je hebt veel keuze, duidelijke voorwaarden en ondersteuning vooraf en ter plekke. Mocht je bij  Book a Houseboat niet kunnen vinden wat je zoekt, dan zijn er nog de mega-platforms als Tripadvisor en Booking.com.
9. Leuke tussenvorm: Amsterdam Botel
Onze laatste tip is het Amsterdam Botel. Dat is geen woonboot, maar een grote boot die is omgebouwd tot drijvend hotel. Hier krijg je dus de ervaring van een verblijf op een boot, gecombineerd met de gebruikelijke voorzieningen en service van een regulier hotel.
Het Botel ligt bij de populaire en levendige NDSM-werf, op zo'n 20 minuten met de (gratis) pont vanaf Centraal Station. Heel origineel zijn de moderne lettervormige kamers op het dak van de boot.
We hopen dat je je voordeel doet met onze tips voor het huren van een woonboot.
En uiteraard hopen we je ook te zien bij onze bootverhuur!