CHECKLIST VOOR EEN GESLAAGD UITJE
CHECKLIST VOOR EEN GESLAAGD UITJE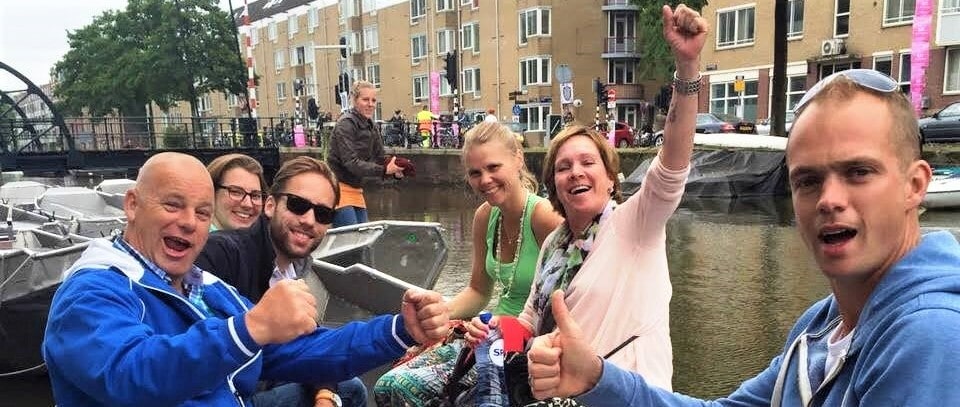 Een bootje huren in Amsterdam en zelf varen over de Amsterdamse grachten is niet iets wat je elke dag doet. Daarom hebben wij een checklist voor je gemaakt. Neem deze s.v.p. even aandachtig door, zodat je zeker weet dat je niets vergeet. Ook handig om met de share buttons op deze pagina even door te sturen aan je mede-opvarenden.
1. Neem een geldig identiteitsbewijs mee
Neem s.v.p. altijd een geldig identiteitsbewijs (paspoort, rijbewijs of ID-kaart) mee. Anders mogen wij je van onze verzekering geen bootje meegeven.
2. Graag 10 minuten voor aanvang aanwezig
Voordat je gaat varen leggen we je persoonlijk uit hoe je bootje werkt, wat de belangrijkste regels op het water zijn en wat mooie vaarroutes zijn. Ook moeten we (helaas) wat papierwerk met je invullen. Daarom vragen we je 10 minuten voor aanvang aanwezig te zijn. Op die manier gaat er geen waardevolle vaartijd verloren. Onze steiger is gunstig gelegen aan de rand van de Jordaan, aan de westkant van het centrum. Het precieze adres is tegenover Nassaukade 155 aan de kade. Bekijk hier onze ligplaats op Google Maps en ons reisadvies.
3. Neem lekker eten & drinken mee
Bij ons mag je je eigen eten en drinken meenemen. Sterker nog: dat raden we je absoluut aan. Varen wordt nog leuker met een lekker hapje en/of drankje erbij! Het handigst is om van tevoren even wat inkopen te doen, zodat je je huurperiode optimaal (varend) kunt benutten. Dit zijn onze favoriete adressen in de buurt (op loopafstand) om lekker eten en drinken te kopen voor onderweg.
4. Vrijgezellenfeesten zijn bij ons NIET toegestaan
Wij staan geen vrijgezellenfeesten toe op onze bootjes. Mocht je die informatie hebben gemist bij het reserveren van je bootje en per ongeluk toch voor een vrijgezellenfeest hebben geboekt, laat het ons dan z.s.m. weten! Dan annuleren wij je reservering en krijg je je geld terug.
5. Wees voorbereid op (bijna) elk weertype
Op het water is het weer bijna altijd intenser dan op de wal. Als het waait en/of als het koud is, merk je dat eerder op het water (zeker als je lang stil zit). En als de zon schijnt, dan verbrand je op het water ook weel sneller!
Houd er ook rekening mee dat het weer snel kan omslaan: ten goede, maar helaas ook wel eens de andere kant op. Dat hoeft allemaal geen probleem te zijn, als je maar de juist spullen aan of mee hebt.
Ons advies: neem zonnecreme en een zonnebril mee, maar ook altijd wat warme kleren -liefst waterafstotend- en een paraplu. Als je hartje zomer zin hebt in wat verkoeling, zijn zwemspullen handig. En in het voor- en najaar kan het soms geen kwaad om zelfs handschoenen en/of een muts mee te nemen. Better safe than sorry!
Bekijk hier de actuele weersvoorspelling op KNMI of Buienradar.
6. Laat je speakers, boomboxen en ander muziekapparatuur thuis
In Amsterdam is het wettelijk verboden muziek af te spelen op alle soorten open boten. Die regel is ingevoerd om het leefbaar te houden voor de bewoners van de grachten en om overlast te voorkomen. Ook zachte muziek is niet toegestaan. Je apparatuur wordt in beslag genomen en de boete is maar liefst 220,-. Dus wees gewaarschuwd en laat je muziek-apparatuur thuis.
7. Combineer je boottocht met andere leuke dingen in de buurt
Boats4rent ligt tegen de Jordaan aan. Deze gezellige en levendige buurt staat bekend om zijn enorm diverse aanbod aan leuke horeca. Volop mogelijkheden dus om vóór of na je boottocht ergens lekker te gaan drinken en/of eten. Voor een snelle, lekkere en gezonde hap raden we onze buren van Poke Gogo aan en voor een lekker ontbijtje of een eenvoudige maar smakelijke lunch de Coffee Roastery. Ook het winkelaanbod in de buurt is zeer gevarieerd. Bezienswaardigheden in de buurt zijn o.m. de Jordaan zelf, de Foodhallen, het Anne Frank Huis, de Westerkerk, de grachtengordel, het Vondelpark en het Leidseplein.
(als je nog niet hebt gereserveerd:) 8. Reserveer van tevoren!
Als het lekker weer is, zitten wij vaak vol. En bij slecht weer besluiten we wel eens dicht te blijven. Om last minute teleurstellingen te voorkomen, raden we je aan altijd van tevoren te reserveren. Als je vandaag wilt varen, kun je ons bellen: 020-7009377. Als je morgen of een andere dag wilt varen, kun je eenvoudig en snel online reserveren.
Hopelijk tot snel bij Boats4rent!
Neem gerust contact op als je nog vragen hebt: info@boats4rent.nl.